Advocacy Alerts
Check here regularly for the latest information on hearings (the public only receives 5 days notice including weekends and holidays), rallies, lobby days, and any other time-sensitive alerts that you need to know about in order to continue to educate, advocate and otherwise participate in Coalition activities! If you have further questions/for the most time-sensitive issues, please call KTP directly at: (860)788-6180 or email: KTP@cahs.org.
Your experiences, delivered in an effective way, create change and make a difference in many lives throughout CT!
Brief Summary of the 2017 Legislative Session Bills and Mental Health Issues
For all of you who have been asking how mental health fared this session, please "click here
Also, please "click here
to see a list of legislators and others whom we want to thank for their hard work to keep mental health funded in this budget and for being a champion of certain bills. It is important to let them know that we appreciate what they accomplished, especially in the special session when budget negotiations were very uncertain.
As always, if you have any questions, please feel free to contact us. THANK YOU for all your persistence, perseverance and determination in advocating for mental health! We couldn't have done this without YOU!!
~~~~~~~~~~~~~~~~~~~~~~~~~~~~~~~~~~~~~~~~~~~~~~~~~~~~~~~~~~~~~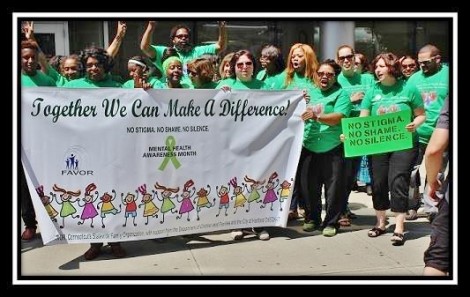 News Flash!
A group of rowdy staff, families, and friends of FAVOR held a lively demonstration in front of the XL Center in Hartford to show support for National Mental Health Awareness Month!! NO STIGMA. NO SHAME. NO SILENCE.
Picture Courtesy of FAVOR, Inc.
~~~~~~~~~~~~~~~~~~~~~~~~~~~~~~~~~~~~~~~~~~~~~~~~~~~~~~~~~~~~~